When most people try to change habits, they fail. Regardless of their intentions, they simply do not understand how the bad habits and lifestyles have formed, so they try to use pure will power to change – and this only works for a slim few.
Think of the times you decided to cut out a bad habit. For example, to stop smoking. Most people fail. And the reason most people fail is they see themselves as "smokers". All of the internal dialogue (those thoughts in your head) are about you being a smoker. So, even as you try to stop smoking, your mind sees you as a smoker. You can hear this in the words you use; "I am TRYING to stop smoking", "I don't smoke AS MUCH", etc.
As soon as you change your point of view (a reframe) and convince your mind you are a NON-SMOKER, then you will have a much easier time of breaking the habits. Your body and your mind want to be congruent (in harmony), so if you physically crave a cigarette, and you believe you are a smoker, you will smoke. Reframe the mind (I am a non-smoker), and the body will follow (I no longer crave a smoke).
This principal applies to all human habits and interaction, not just smoking and health and fitness. To give you a better shot at transforming your body into what you want, we first have to start retraining how your mind views you, food, and exercise. To do this, we are going to use some techniques taken from NLP (Neuro-Linguistic Programming), and more information is easily found online. We will discuss a few easy ways of creating mental states to help you change your current behavior into more desired behaviors (in this context losing fat, getting in shape and for a few, building muscle).
Some of you, as you read these parts, are going to internally talk yourself out of believing that your mind and your body works this way. It does work this way, and if you can put aside disbelief and do the exercises and tasks you will have a much better chance of obtaining your goals.
Skip this section at your own peril.
Set Your Goal
It is not enough to say "I want to lose weight", "I want to be leaner" or even, "I want to gain muscle."
A goal must be specific and measurable (and I would even say achievable). For example, I started at 203 pounds with 27.3% body fat ~ 55.4 pounds of fat. I wanted to be at 10% body fat and still weigh 200 pounds.
So my goal is to lose 35.4 pounds of fat (10% X 200 pounds = 20 pounds; 55.4 pounds – 20 pounds = 35.4 pounds of fat loss) and replace it with 30 pounds of muscle.
A note of caution: If you are a female, please focus on body fat % more than your actual weight. As you exercise, your body will literally weigh more, even though you might be smaller than someone who weighs the exact same, but has twice the body fat levels (bone and muscle are denser than fat, thus they take up LESS space, but weigh more than fat). Trust me here, if you are not trying to add lots of muscle, stick with lowering body fat %.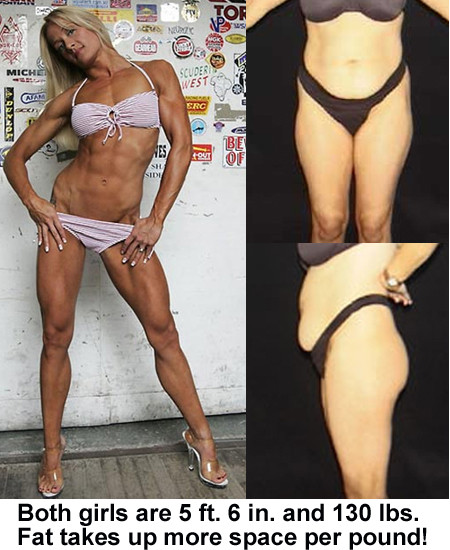 Write the goal down. Read it every day.
Set a Deadline
My deadline was 120 days. Why did I pick 120 days? I wasn't sure I could do it, but I knew that even missing by 30 days would have me looking great for lake season.
Add the deadline to your written goal. Put the goal in your wallet or purse. Read the goal every day. This plays into the mental exercises you are about to learn.
Realistic Goals and Deadlines
"Lose weight without diet and exercise!"
"Lose 30 pounds in 30 days!"
"Lose 10 pounds this weekend!"
Lot's of marketing folks making lot's of claims. "Sell the sizzle", as I have heard. And you know what, some of the claims are true. All of the above can be achieved. The problem is HOW they are achieved.
The body is 70% water. If you want a fast way to drop 10 pounds, cut out all fluids for a day or two. Now – DO NOT DO THIS. It is extremely unhealthy, and we don't want to focus on body weight, we want to focus on losing body fat and/or gaining muscle.
The American College of Sports Medicine (ACSM), the largest and most respected health, medical and exercise organization in the world, has established guidelines for healthy weight loss. In their position statement on "Proper and improper weight loss programs," they recommend a weight loss goal of one to two pounds per week. In terms of body fat, for a 200 pound person, that is 0.5% to 1% of fat loss per week. If you are impatient, this may seem like a slow process, but this approach is safe and helps ensure you will keep the body fat off.
What You Know
There is a big difference in knowing what you should do, and doing it. Later, we will make sure you know the "what to do" part of looking like you should. Right now, we are going to focus on the "doing it part".
You Are Either Wired For Success Or Failure!
Your mind has two components: The conscious and the subconscious. The conscious mind is the rational, logical, analytical, thinking part of the mind. The conscious mind is constantly taking in information from the five senses, then it uses logic and reason to analyze the inputs and comes to conclusions about whether the input is true or false. The subconscious is the part of the mind responsible for storing data (memory), for automatic behavior (habits), reflexes and autonomic functions of the body such as digestion, breathing and circulation.
It's important to note that unlike the conscious mind, the subconscious mind does not "think." It is entirely deductive in nature, which means it works like a computer. All the data programmed into your subconscious "computer" through the conscious is accepted and assumed to be true. It doesn't matter whether the data is actually true or false. The subconscious unquestioningly accepts everything that reaches it. It then carries out the programming you have entered into it.
Suggestions given under hypnosis or affirmations repeated during deep relaxation are ways to access the subconscious mind. Another way to penetrate the subconscious (although much slower) is through repetition (why affirmations and visualization doesn't work great all by themselves). Everything you hear, see, say, read or think repeatedly will eventually filter into your subconscious mind.
We will be exploring some NLP techniques that help you reprogram your subconscious as fast as possible. And this can be used in more areas than fat loss, diet and fitness.
You Have Already Programmed Yourself
Most people have good intentions, but they unwittingly allow their subconscious to work against themselves by focusing on what they don't want (yes, this is the think positive aspect). And, as author Louise Hay wrote, "The more you dwell on what you don't want, the more of it you create." Think negative enough (repetition) and you will get what you think about.
Here are a few examples of negative statements and self-defeating questions:
It's not fair that everyone else loses weight except me.
I can't lose weight no matter what I do.
I wish I could lose this last ten pounds.
Why is it so hard for me to lose weight?
I have a slow metabolism.
I am a hard gainer.
I just don't have good genetics.
I don't want to be fat anymore.
I don't want to be skinny anymore.
I wish I could get rid of this gut.
I don't have the willpower to get lean.
I don't have time the time to workout.
I don't have the time to eat like that.
I hate being fat.
I'll never see my abs.
I hate cardio.
I hate lifting weights.
I can't.
I'll try.
"Do, or do not! There is no try!" – Master Yoda
You talk with yourself all the time. It has been estimated that you think around 50,000 thoughts per day, and many of these are the same thoughts you have already had, with a large percentage of them being negative about yourself.
To have freedom from these self defeating habits, you have to:
1) Realize that you really do talk to yourself all the time
2) Realize that most of these thoughts are negative
3) Learn to replace negative thoughts and habits with more productive thoughts and habits